E. Diffusion in the tissues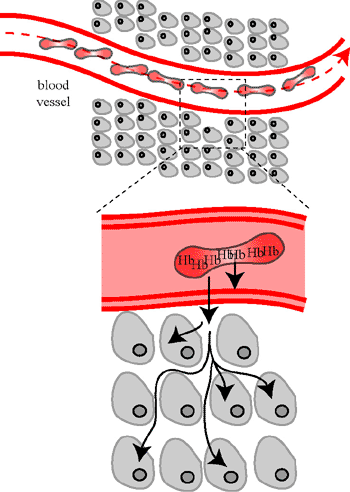 Diffusion of oxygen in the peripheral tissues:
This diagram shows the pathway of oxygen molecules from the blood to the individual cells in tissues.
In contrast to the situation in the lungs, in the tissues in the body, the concentration of oxygen is highest in the erythrocytes and lowest in the cells. It is lowest in the cells because their metabolism consumes oxygen. Therefore, there will be:
diffusion from the erythrocytes, through its membrane, to the plasma
from the plasma, through the endothelium, into the interstitial fluid
from the interstitial fluid, through the plasma membrane of the tissue cells, into those cells.
In contrast to the diffusion in the lungs, the distance that the oxygen molecules have to travel is often much longer. That is because it is impossible to provide every cell with its own capillary! This therefore limits the metabolism of the tissue. In some cases, such as in skeletal muscles, opening more capillaries, solves the problem.
For example, this happens when the muscle exercises. In a normal resting muscle, about 80-90% of the capillaries are closed. But when the muscle exercises, and therefore needs more oxygen (to make more ATP), more capillaries open, thereby shortening the diffusion time from the capillaries to the individual cells.
Another, long term solution, is to create new capillaries. This can happen when you exercise your muscles a lot. This will increase the size of your muscles (=hypertrophy) and create new blood (= angiogenesis; from angio = blood vessel and genesis = creation).