Action Potentials
Action potentials are generated when voltage-gated sodium channels open as a result of the passage of local electrical currents across the membrane.
These local currents may occur at the site of
an electrical stimulus
a depolarisation produced by a generator potential at a sensory ending
a depolarisation of the cell body produced by an EPSP (excitatory post-synaptic potential)
a depolarisation produced by ligand-gated channels (receptors) on a post-synaptic membrane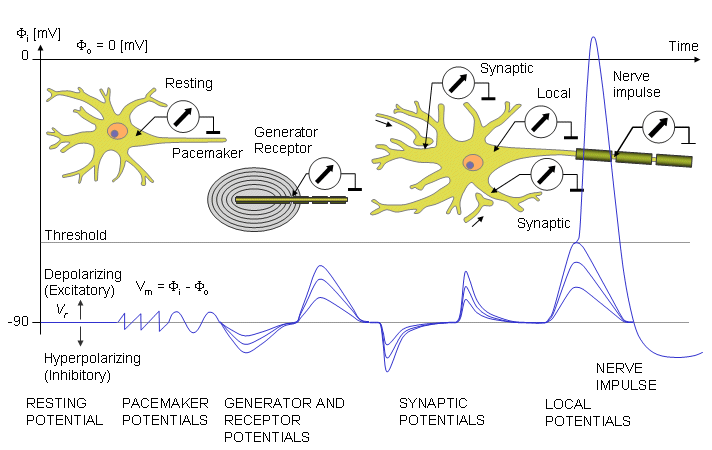 *
Whenever a depolarization of the axon is sufficient to reach a threshold (when the resting potential drops to around - 50 to -55 mv), voltage-sensitive sodium channels in the membrane open. As a consequence some Na+ ions move down both electrical and voltage gradients towards the Na+ equilibrium potential (about +40 to +60 mV) and cause the membrane potential to reverse for less than a millisecond.
The All or Nothing Law (which applies to single axons) states that an electrical stimulus of a particular size to an axon either produces an action potential or it does not.
The Threshold stimulus is the stimulus size (mV or mA) that just initiates an action potential
A stimulus that is insufficient to initiate an action potential is known as a Subthreshold Stimulus
A stimulus greater than the threshold stimulus is called a Suprathreshold stimulus: the action potential is no different from that induced by a threshold stimulus and the swing of membrane potential is constant in size