Synapses
Synapses are areas of close contact between the axon terminal of one neurone and another cell. Synapses on neurones can occur on the dendrites or the soma (and called axo-dendritic and axo-somatic synapses); most synapses are on the dendrites.
The diagram shows synapses on the surface of a motoneurone some of which are red and others green, representing different functions.
Excitatory synapses release a neurotransmitter that produces a transient depolarisation of the membrane - an Excitatory Post-Synaptic Potential (EPSP). It is due to current injected into the post-synaptic cell as a result of a neurotransmitter acting on a ligand-gated ion channel in the post-synaptic membrane.
There is a synaptic delay - a fraction of a millisecond between the arrival of a nerve inpulse at the pre-synaptic terminal, and the start of the EPSP. The synaptic delay is the time taken for transmitter to be release, diffuse across the synaptic gap, and act on the post-synaptic receptor (the ligand-gated ion channel).
This ion channel makes the membrane permeable to a number of different ions - mainly the simultaneous movement of sodium and potassium ions - for a fraction of a millisecond. The electrotonic properties of the membrane cause the EPSP to return to the baseline resting potential within about 12 msec. The equilibrium potential of the EPSP is about +100 to +110 mV. As a result the ion movements during the EPSP depolarise the post-synaptic membrane.
Other synapses inhibit the post-synaptic neurone by producing a transient hyperpolarisation called an Inhibitory Post-Synaptic Potential (IPSP). The mechanism is not dissimilar to that described above, except that the neurotransmitter ('inhibitory transmitter') acts on a different ligand-gated channel that opens the channel to potassium and/or chloride ions. The equilibrium potential of the IPSP is between -70 and -90 mV. As a result ion movements hyperpolarise the post-synaptic membrane.
Each synapse either depolarises or hyperpolarises the cell membrane and the two type of effects multiplied by the numberous synaptic inputs to the neurone summate algebraically; the resultant changes in the membrane potential at the initial segment of the axon are crucial for the generation of action potentials.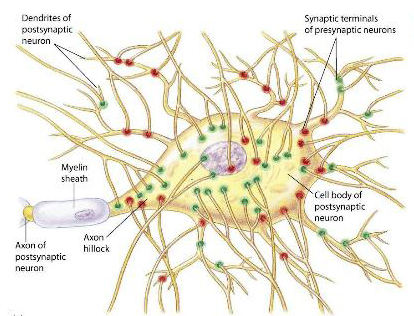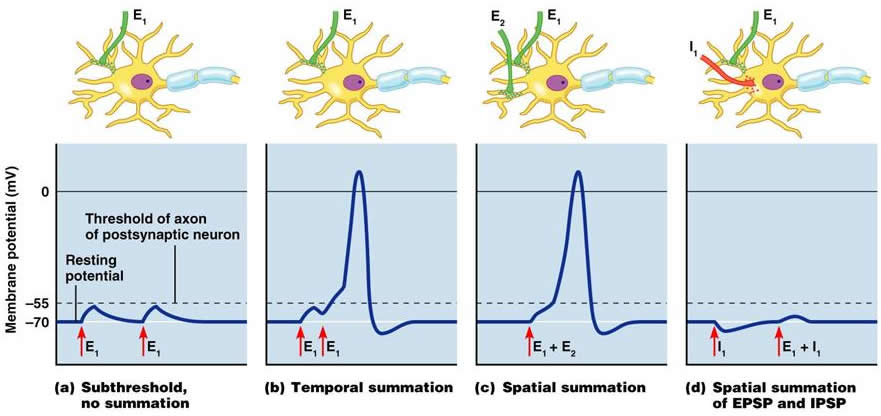 Summation
The diagram shows the summation of EPSPs that bring the post-synaptic cell to thershold. It also shows the antagonism between EPSPs and IPSPs that is the essential process underlying the integrative properties of neurones.
Axon Hillock
The Axon Hillock is the initial segment of the axon - about 25 micrometres in length - and is the site between the perikaryon and the axon at which the cell membrane contains voltage-gated sodium channels. The axon hillock is the site at which action potentials begin and start to pass rapidly down the axon towards its terminal.
The axon hillock is therefore the site at which integration of all the EPSPs and IPSPs generated at individual synapses occurs, and the level and duration of depolarisation at the axon hillock determines the frequency of action potentials carried by the axon.