The autonomic nervous system is a system of efferent nerves that connect the CNS with internal organs, but unlike the motoneurones that connect directly with skeletal muscles, the pathway between the spinal cord and a visceral organ is interrupted by a synapse within an autonomic ganglion.
The presence of the ganglion and synapse in the path of the nerve defines the pre- and post-ganglionic neurones of these pathways. The cell bodies of the preganglionic neurones are within the CNS, whereas those of the post-ganglionic neurones are within the ganglia.
The preganglionic neurones are generally finely myelinated, whereas the postganglionic neurones are unmyelinated. Preganglionic neurones use acetylcholine as their neurotransmitter within the autonomic ganglia.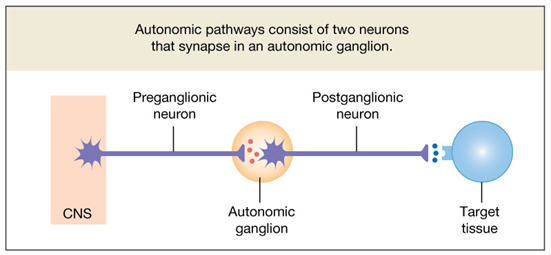 *
Lateral Horn of the Spinal Cord
The lateral horn contains the preganglionic neurones of the autonomic nervous system; this area is sometimes given the name intermedio-lateral column because some neurones have their cell bodies in a more medial position.
However, a lateral horn is only present in certain segments of the cord, which are:
the first thoracic to second lumbar segments, and sacral segments 2-4 (in humans).
So the lateral horn is absent in the cervical cord and the lower lumbar cord.
The neurones of the lateral horn between the first thoracic and second lumbar segments are referred to as the sympathetic preganglionic neurones. The axons of these neurones synapse on post-ganglionic neurones in the sympathetic chain, - a chain of ganglia running alongside the vertebrae throughout the length of the vertebral column including the neck and pelvic regions.

In addition some innervate the adrenal medulla and some specialised pre-vertebral ganglia in the abdomen, such as the coeliac or inferior mesenteric ganglia.
The neurones of the lateral horn of the sacral cord send axons to parasympathetic ganglia that are locate close to the internal organs of the pelvis, where they synapse of postganglionic neurones that innervate the pelvic urogenital or colo-rectal organs.
The parasympathetic system includes a cranial outflow that innervates the intrinsic muscles of the eye, the salivary glands and thoracic organs, and the upper 2/3rds of the gastrointestinal tract, as shown in the diagram opposite.
Greater coverage of the autonomic nervous system will occur in the section on autonomic physiology.
Myelination of preganglionic axons
Pre-ganglionic fibres have a fine degree of myelination and are therefore whiter than the grey, unmyelinated, post-ganglionic axons.
The difference in colour is discernible in the white and grey rami communicantes which connect the sympathetic chain and the spinal nerves.
The myelinated preganglionic axons pass through the white rami comunicantes on their way to the sympathetic ganglia. Unmyelinated axons of postganglionic neurones pass through the gray rami communicantes to re-enter the spinal nerve and continue towards their target organs such as blood vessels.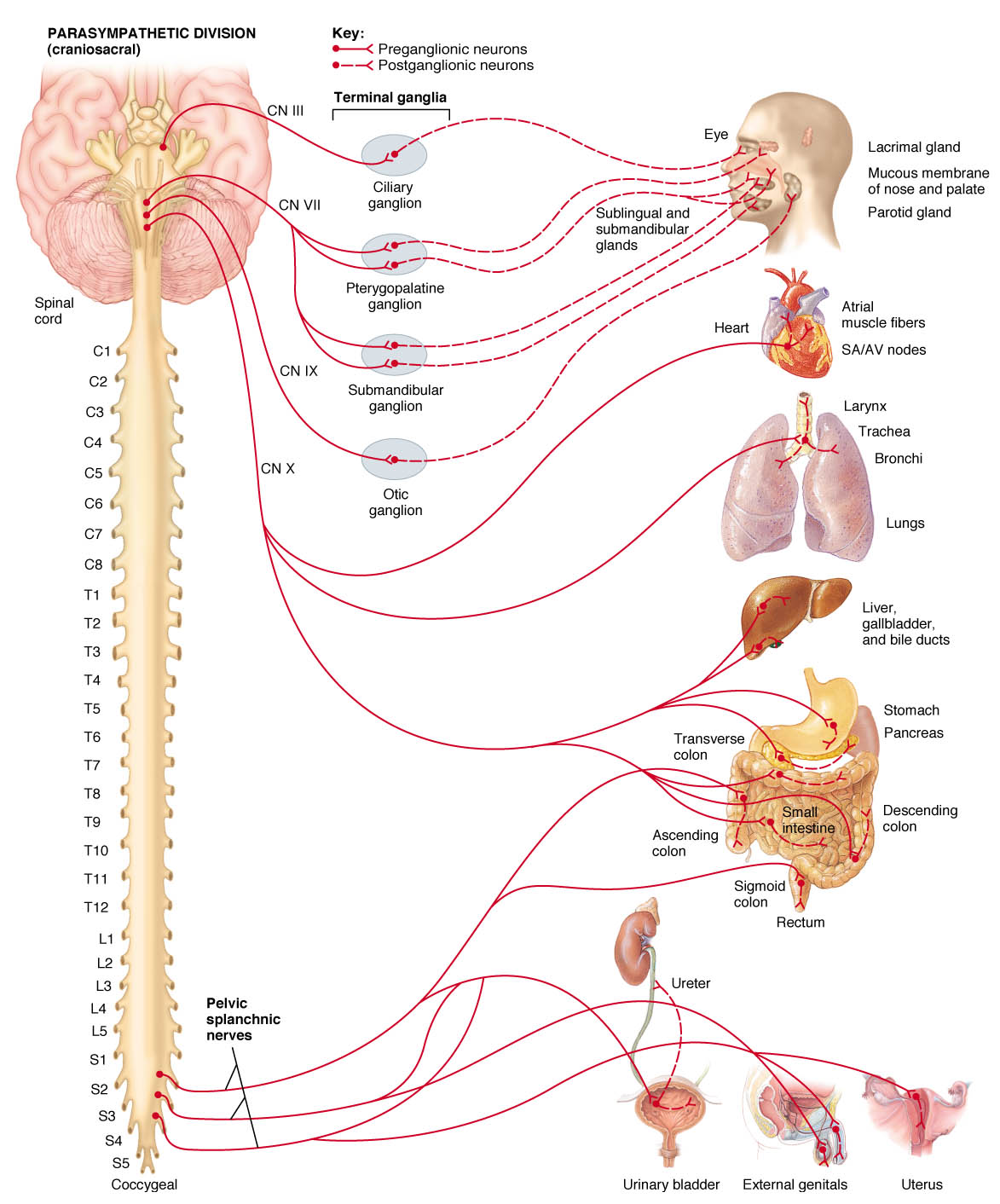 *