The main components of the basal ganglia are the striatum (caudate nucleus and putamen), the globus pallidus, the substantia nigra, the nucleus accumbens, and the subthalamic nucleus.
The striatum is the largest component of the basal ganglia and is the largest of the nuclei within the cerebral hemisphere. The term "striatum" comes from the observation that this structure has a striped appearance when sliced in certain directions, arising from numerous large and small bundles of nerve fibers (white matter) that traverse it.
The caudate nucleus is a part of the striatum with similar functions and can be considered as two separated parts of a single entity. They are separated anatomically by the internal capsule.
The striatum or putamen (also sometimes called the lentiform body or lenticular nucleus in older texts) receives input from many brain areas but sends output only to other components of the basal ganglia.
The globus pallidus is adjacent to the striatum and receives input from it. It is paler in sections than the putamen, hence its name.
The substantia nigra is a dark pigmented band within the cerebral peduncle and projects to the striatum.
The subthalamic nucleus, found in the diencephalon, receives input mainly from the striatum and cerebral cortex, and projects to the globus pallidus.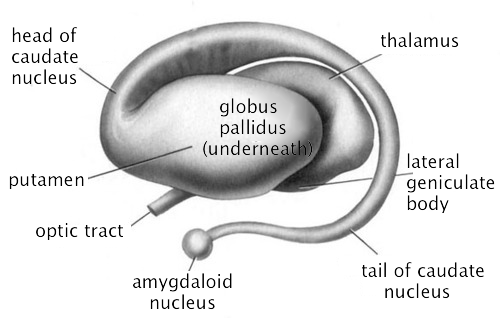 *
The corpus striatum can be seen to be a lens shaped body attached at its anterior pole to the head of the caudate nucleus. Posteriorly these two structures are separated by the internal capsule, as the caudale nucleus assumes a 'C' shape and swings into the temporal lobe, where it ends in the amygdaloid body.
The corpus striatum sits in a lateral position to the internal capsule, which in turn is lateral to the thalamus. The internal capsule passes between the corpus striatum and the caudate nucleus
Each of these areas has a complex internal anatomical and neurochemical organisation.
Substantia Nigra
Below and behind the thalamus and basal ganglia lies the midbrain and within the cerebral peduncles (crus cerebri), the ventral part of this structure on each side, can be seen a band on dark material known as the substantia nigra. This has important connections with the basal ganglia, and the cells that contain both the dark pigment and the neurotransmitter dopamine degenerate in Parkinson's disease